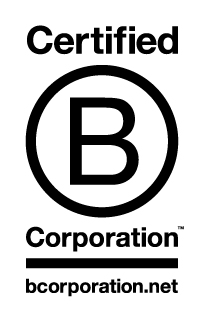 What exactly is a B Corporation?
These are companies which realize that capitalism can be a force of good in the world. Companies that can be a benefit to the world.  The "B" in B Corporation stands for "benefit".
These are companies which believe that shareholder values are not the only values a company should care about.  The company's employees, community, and environment must also be important, as all these "stakeholders" interact with the company as it does business.  "B" thus also being the first letter of balance, as in balancing the myriad of views and values, all while still making a profit.
From the voice of B Labs itself, the certification company behind "B Corporations":
Certified B Corporations 1) meet rigorous standards of social and environmental performance; 2) legally expand their corporate responsibilities to include consideration of stakeholder interests; and 3) build collective voice through the power of the unifying B Corporation brand.

Why does any of this matter to Fledge?   We are a "conscious company" accelerator.  While we define that term in a customer-centric form, helping companies that meet the needs of "conscious consumers", we expect the methods used to meet those needs to also meet the needs of the company's employees, community, and shareholders.
Fledge is a B Corporation that is working to create more B Corporations.
The Change We Seek®
We seek the day when the common definition of "corporation" includes the goals of today's B Corporations, when "capitalism" becomes a dominant force of good in the world.
B Impact Report
Summary:Certified: October 2012
| | Points Earned | % Points Available |
| --- | --- | --- |
| Overall B Score | 117.7 | |
| Governance | 16.7 | 75.9% |
| Workers | 0 | 0% |
| Community | 92.1 | 63.7% |
| Environment | 9 | 45% |
Best for Community 2013
Fledge is not just a Certified B Corporation, but a top 10% of all B Corps for community impact.  Take a look at the whole list of the Best of the Best for Community Impact.