In rural Ghana, women typically can't own their own land or do their own farming.  Instead, they can only help their husbands, who then let their wives pick the shea nuts from the native shea trees and process those into shea butter.
You may not have heard of shea butter, but you've used it, as it a common ingredient in moisturizers and cosmetics.
Shea butter is thus a path for rural women to earn an income, except then for the typical stories of middlemen making all the profits, leaving pennies for the producers.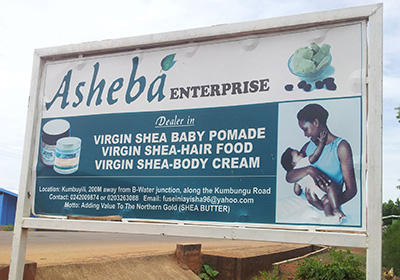 Enter Ayisha Fuseini, founder of Asheba Enterprise.  Asheba helps women in northern Ghana process their shea nuts into shea butter, aggregating and exporting the butter to companies like The Body Shop in the UK, and to other companies in the U.S.
Sometimes the solution is as simple as mechanization and aggregation.
Read more about Asheba at Camfed, and stay tuned for more details on how Asheba will scale up as we make are way into the second half of Fledge11.