An unprecedented 842 applications arrived to Fledge at the start of 2020. We unfortunately can't provide our investment and training to everyone who applies, but we can at least provide some insights that we see from our view reviewing all these startup applications.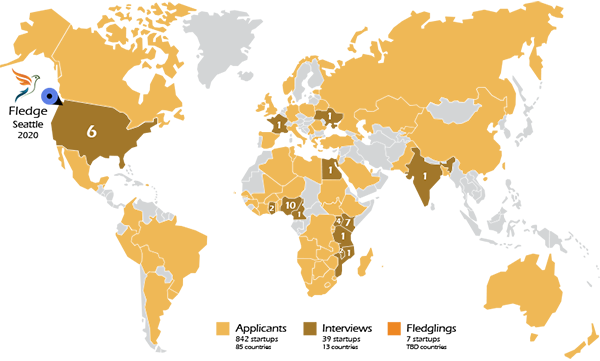 Trend 1: Traction
When Fledge began in 2012, applicants for accelerators were nearly all idea-stage companies. Maybe a rough prototype, but not customers. That changed sometime around 2015. Here in 2020, most of the applicants have incorporated businesses with some paying customers, if not 2-3 year old companies doubling revenues and customers seeking advice not on how to start, but on how to grow.
Fledge has adjusted our program over the years to cater to a wider range of participants. We still do tend to invite in one idea-stage company per cohort, and sometimes a few prototype-stage companies. But we've also worked with companies earning over a half million dollars per year in revenues, seeking a path to double or triple that within a year.
Trend 2: Repeat Business Plans
Some businesses seem simple and obvious and as such, we see them over and over again, e.g.: an online marketplace connecting farmers and consumers, crowdfunding, microloans, cross-border payments, and apps to help consumers buy greener products.
The trouble is that we see dozens of startups repeating these and other business plans, but in most cases can't point to a single success anywhere in the world to make us believe that anyone will succeed.
When we see a repeat plan like this, the logical choice for Fledge as an investor is to pass on all of them. The same is true of other investors. Innovation is the trick to break out of this Catch-22. When we see a repeat business plan with a twist, and if that business is doing well, then that makes us want to learn more, if not dive in and help.
For entrepreneurs, what you can do to help understand if you are stuck in this situation is to go visit websites like Angel List and VC4Africa, take a few hours, and search out companies that look like yours. If your is identical to three or four or ten, and if none of them are in the news as giant successes, then push harder on your plan to make it different.
Trend 3: Mid-stream Pivots
Back when accelerators were idea-stage incubators, the norm was for a team to leave the program with a different idea than when they arrived. After the move toward companies with traction, that stopped happening.
This year, however, we saw quite a few applicants who have businesses with customers and at least tens of thousands of dollars of revenues, but which are in the midst of a pivot to a brand new business.
Seeing and jumping on new opportunities is great. Doing that and doing it quickly is the sole advantage startups have over established companies.
Maybe it was a quirk that at least a half dozen companies mid-pivot applied this year. Maybe that is a new trend. Either way it was surprising to see and it made understanding the applications a lot more difficult, as sometimes the pivot means the company is idea-stage but with revenues, but sometimes it means the company has no proof that what they intend to do will bring in any revenues.
Trend 4: More than Chickens
Mixing trends 2 and 3, we had a flurry of applications for companies that grow chickens, fish, and other animals. Historically we've received quite a lot of chicken companies, and a few fish farms, but only once before have we received an application from a company growing a variety of animal protein.
Trend 5: Nigeria
Last on this list is the flood of applications we received from Nigeria. Second only to the United States in sheer numbers.
Numerically, this isn't terribly surprising. There are 200 million Nigerians (vs. 320 million Americans) and Nigeria is the largest economy in Africa.
If any families, funds, or foundations out there would like to set up Fledge Nigeria, there is clearly a market need. We can help you get that started.